Where did the Bible that I love come from? Tradition. What is the Bible, a tradition of God's and the Church's.
What are "traditions of men" as Paul calls them? Men deciding that they can abort parts of scripture that they disagree with, and then claim that what is left is the only acceptable source for all knowledge.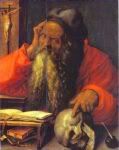 St. Jerome, pictured here, is often depicted by artists with a skull "The skull represents the seat of thought, and also symbolized spiritual perfection. Death of the physical body (symbolized by the skull) enabled one to be reborn at a higher level at which the spirit could rule."